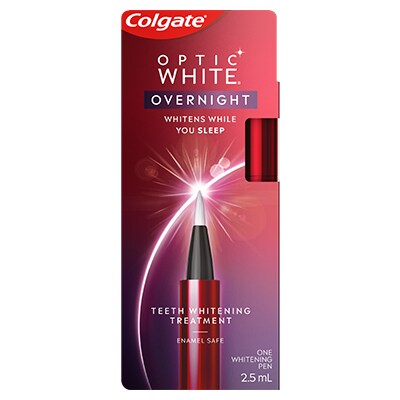 Colgate® Optic White™ Overnight Teeth Whitening Treatment Pen with Hydrogen Peroxide Enamel Safe
Colgate Optic White Overnight Teeth Whitening Treatment with hydrogen peroxide whitens while you sleep (3 shades whiter in 2 weeks. Individual results may vary). Apply nightly to clean teeth for results in just one week.
Easy to use - easy to use tooth whitening pen features a precision brush to target the surface of each tooth.
Enamel Safe - enamel safe teeth whitening gel formula.
Whitens while you sleep - whitens teeth up to 3 shades in as little as 2 weeks.
Contains the whitening ingredient dentists use - contains 3 percentage hydrogen peroxide.

DIRECTIONS FOR USE

1. CLICK - click the end of the pen until a small drop of serum appears on brush tip. First use will take multiple clicks (up to 20) to get that first drop to appear. Note: 1-2 clicks of serum is enough for up to 4 teeth.

2. DRY - after brushing your teeth just before bed: dry top row of teeth, by simply dabbing with a tissue.

3. APPLY - apply a single, thin layer of serum to each tooth across the top row - and wait 10 to 15 seconds for clear film to form. Dry bottom row of teeth and repeat the process. If you feel a tingling sensation during application, avoid contact with your gums while applying.

4. SLEEP - the dried film will stay on your teeth overnight while you catch those zzzs. The next morning, brush like normal to remove the film and reveal your brighter, whiter smile.

5.TO CLEAN - after use, make sure to wipe the brush bristles with a dry tissue; do not use water. Firmly replace the cap until you hear a soft click to avoid hardening of the tip. If tip hardens, do not rinse with water. Instead, click pen 2-3 times and the new serum will clear up and soften the bristles.